I-Gemini's Web Page
Great Pyrenees / Anatolian Shepherd (medium coat) : : Female (not spayed, but will be before adoption) : : Adult : : Large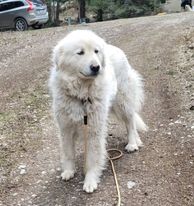 I would love you more than you can imagine.
Please adopt me!
Learn more about the Great Pyrenees. Learn more about the Anatolian Shepherd.
Print an adoption flyer for I-Gemini!
About I-Gemini

Status: Available for Adoption (adoption info)
Adoption Fee: 137.50
Species: Dog
Rescue ID: 22-0051
General Color: White
Eye Color: Brown
Ear Type: Natural/Uncropped
Tail Type: Long
Current Size: 70 Pounds
Current Age: 4 Years 11 Months (best estimate)

Fence Required: Yes(6 foot)
Housetrained: No
Obedience Training Needed: Has Basic Training
Exercise Needs: Low
Grooming Needs: Moderate
Shedding Amount: Moderate
Owner Experience Needed: Breed
Reaction to New People: Cautious
Gemini is the sibling and partner to Mercury. This beautiful and sweet bonded pair of LGD's is in need of a new home where they can guard your flocks, and you! And also be very loved and cared for as part of the family.
Gemini has been with goats for the last 4 years but also around, ducks, chickens, pigs, rabbits and cats.
She has been known to escape and wander so fencing is important with this girl.
Gemini is sweet, gentle and loving but also protective. She is not very tolerant of dogs she doesn't know coming on her property but is fine when in a neutral space.
Gemini and Mercury are in Idaho, transport can be arranged.
**For the month of July adoption fees are cut in half, so for BOTH dogs the fee is $275** (will still show on bio as $137.50 which is the price for one dog)
More about I-Gemini
Good with Cats
,
Good with Kids
,
Good with Adults
,
Good with farm animals
,
Somewhat vocal
,
Requires a yard
,
Leashtrained
,
Protective
If you are interested in adopting this dog or any other dog please do the following:
1. Click here to fill out an adoption application

2. We will check your vet reference.

3. We will set up for a home visit. The 4 ft or higher fencing must be in place and be very secure for the adoption to proceed.

4. If everything has passed, we will then have you work with the foster parent of the dog(s) you are interested in adopting.

5. The adoption contract must be received along with the adoption fee for the dog before a transport will be arranged.