Foxie's Web Page
Great Pyrenees (medium coat) : : Female (spayed) : : Young : : Large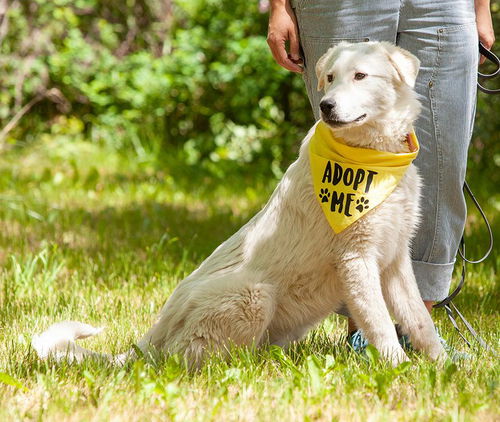 Won't you think about adopting me?
Learn more about the Great Pyrenees.
Foxie needs a caretaker or foster! Won't you consider helping her get a new start?
Print an adoption flyer for Foxie!
About Foxie

Status: Available for Adoption (adoption info)
Adoption Fee: 350
Species: Dog
Rescue ID: 22-0067
General Color: White
Eye Color: Brown
Ear Type: Natural/Uncropped
Tail Type: Long
Current Size: 50 Pounds
Potential Size: 100 Pounds
Current Age: 9 Months (best estimate)

Housetrained: No
Obedience Training Needed: Needs Training
Exercise Needs: Moderate
Grooming Needs: Moderate
Shedding Amount: Moderate
Owner Experience Needed: Species
Reaction to New People: Friendly
Foxie, like her sister, is a VERY sweet and personable girl who adores people. She loves attention and will return it.
Sweet girl has been spayed and is ready for that new home when the right adopter shows up. For now she is spending time at Old Farm Kennels in Florence and would love to have you stop by and say hello - or take her for a walk - or just brush her.
More about Foxie
Good with Dogs
,
Good with Kids
,
Good with Adults
,
Requires a yard
,
Timid
,
Affectionate
,
Even-tempered
,
Gentle
If you are interested in adopting this dog or any other dog please do the following:
1. Click here to fill out an adoption application

2. We will check your vet reference.

3. We will set up for a home visit. The 4 ft or higher fencing must be in place and be very secure for the adoption to proceed.

4. If everything has passed, we will then have you work with the foster parent of the dog(s) you are interested in adopting.

5. The adoption contract must be received along with the adoption fee for the dog before a transport will be arranged.